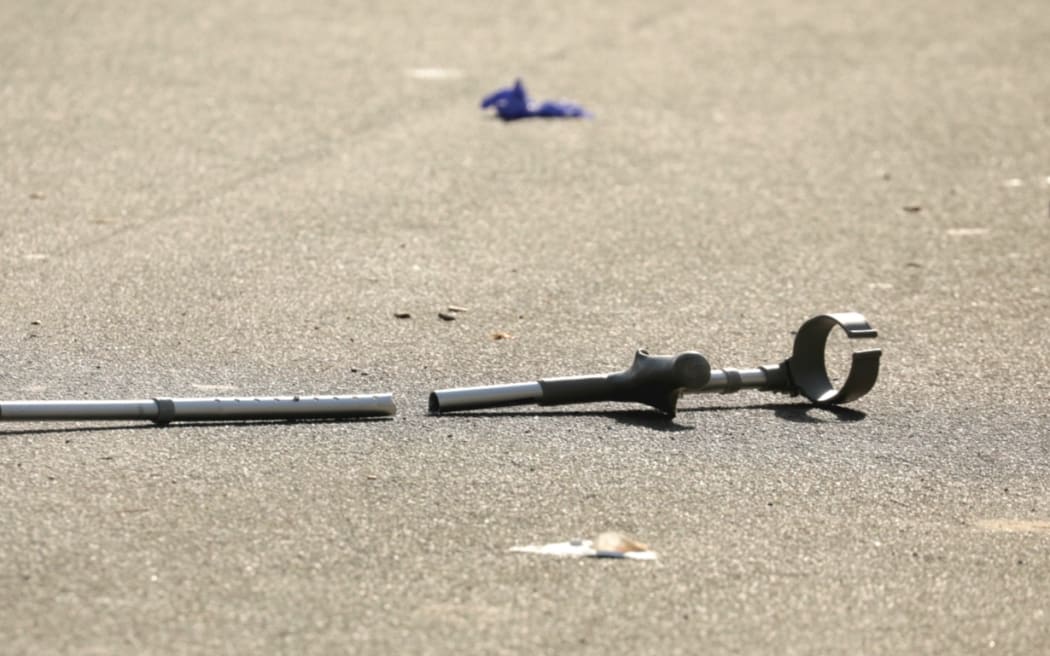 Four members of the public were stabbed in an incident on the North Shore this morning, Waitematā District Commander Superintendent Naila Hassan said.
A person is in custody assisting police with their investigation after emergency services were called to Murrays Bay at around 11.30am today.
Hassan said the incident was "extremely quick" and police "responded quickly, apprehended the attacker and prevented further damage to our communities."
It was a random attack with no indication it could have been prevented, she said.
"This offender was on the move, he was on foot. It started at Murrays Bay, then he stabbed a number of members of the public, then continued walking to Mairangi Bay.
"A number of members of the public were following him and eventually one of them intervened. The members of the public used this crutch to stop him."
It was not the person using the crutches who apprehended the offender with the crutch.
Hassan said it could have been much worse had members of the public not intervened.
She acknowledged "members of the public who acted with extreme bravery this morning, they apprehended the assailant and brought this incident to a conclusion."
It took less than 10 minutes from when police were notified of the incident to when the attacker was apprehended, Hassan said.
She said police arrived "a few minutes" after members of the public apprehended the man.
"The attacker had a knife – it was a pretty big knife."
It would have been "a traumatic event for the victims", who had moderate injuries, she said.
"We make sure they have the necessary support around them."
Other than the four stabbing victims, she does not believe any other members of the public were injured.
"I want to reassure the community that this was an isolated incident, the offender has been apprehended and he is in custody… This was a random attack, there is no indication whether it was a hate crime of any type. The victims were of different gender, ethnicity and age."
Hassan could not say if the attacker was known to the victims.
"This offender is a local person, he went out in public and he randomly stabbed four members of the public. These members suffered moderate injuries and we are putting the necessary services in place around them to support them," said Hassan.
The attacker was hospitalized after being injured during his arrest, she said.
"We will work with other agencies to ensure he is taken care of," Hassan said.
She could not speak to the details of the injuries, but said the attacker suffered moderate injuries.
Police would maintain a "highly visible presence in the community around Murrays Bay and Mairangi Bay", she said.
"We will have a number of inquiries, we will ask the community to provide us with information if they have seen anything or been involved, we would like them to contact us."
Charges would be laid, Hassan said.
.