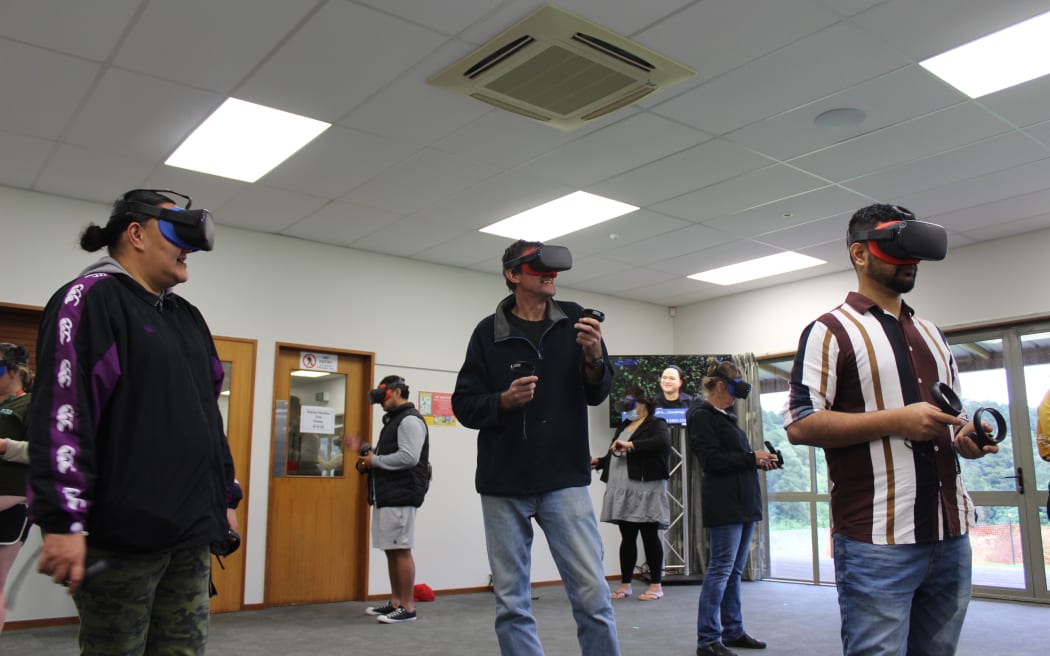 In a room full of people, Jaxson Anderson-Smith stands alone and tries out the role of guard.
Next to him are some others – one is pruning kiwis, the other is driving a forklift.
The one thing they all have in common? They all wear virtual reality headsets and provide training for potential employment.
"I actually had a bit of fun with it, I had never done VR before [virtual reality] earlier, so it was pretty exciting," Anderson-Smith said.
"You have to see some of the things that they would encounter in their work and the stuff they wear, the stuff they use."
Anderson-Smith said he had a part-time job but was looking for extra work, so he attended the Hamilton Gardens Employment Fair organized by the Department of Social Development.
While realizing that a security guard wasn't the right person for him, he said he was glad to know now rather than wasting an employer's time.
"The VR really puts you in it, and you can really see what the work itself is kind of like. Even if it's just a simulation, it gives you an idea of ​​what to expect."
MSD Industry Partnership account manager Nicola Anderson said it can be difficult and daunting to find a job, but the expo can help employers connect potential employees.
"She [expo attendees using VR] to experience things at their own pace, think about the things they see, and if they make mistakes, there's no one around to see them do it," Anderson said.
"It's a really cool way to get people thinking about what they might want to do, or what they don't want to do, because that's a big part of looking for a job. The right path."
The Skills VR modules, used at the expo, include training for the SiteSafe Foundation Passport for Civil and Construction Industries.
They can cut a four-day workout down to 30-minute sessions and can help people who may have difficulty reading and writing.
Skills VR marketing manager Devon The AU Times said it increased learning outcomes from 30 to 90 percent.
"It takes away all the distractions, you are focused on the task at hand and essentially we do our best to engage the 'learning while doing' mechanism. We make our modules about 15 to 20 minutes long, so it is not overloading."
MSD Employment Coordinator Alice Tanner said the employment expo was piloted for the first time in May and one employer hired more than 15 people from the event.
"A lot of the employers we work with, they're really, really desperate for staff. Some people, they may not have thought of working in that industry before, it's a bit of a change for them, Tanner said.
"We're just trying to keep up with things like that and this is a good opportunity for people to broaden their horizons."
The employment fair today attracted more than 300 job seekers in Waikato – a region with approximately 14,500 people on jobseeker's benefit.
More expo events are planned for each region of the country.
.