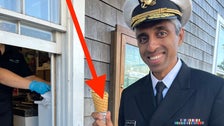 Thursday was National Ice Cream Cone Day, and at least one government official chose a truly mind-boggling way to celebrate.
US Surgeon General Vivek Murthy posted a photo of himself at an ice cream stand to mark the occasion. And while people might expect an occasional lecture on healthy nutrition from a surgeon general, they weren't expecting this:
An ice cream cone without the ice cream is like a pumpkin pie without the pumpkin.
Some on Twitter jokingly (or not) called for Murthy to be impeached. Others pointed out that he serves one of the most openly pro-ice presidents in history. But most noted that publicly accepting an ice cream cone without the ice cream — and then bragging about it on social media — was simply unacceptable:
.