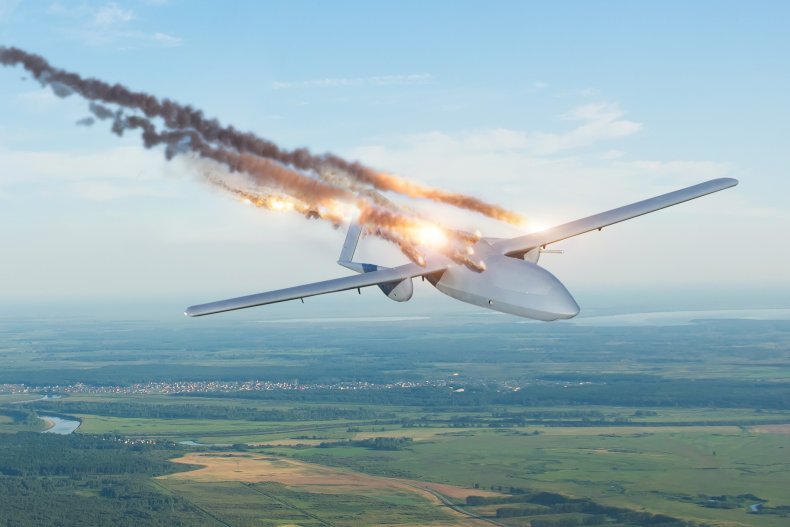 The Ukrainian military has shared a video showing the destruction of a Russian-made Iranian-made kamikaze drone.
Iran's "Shahed-136" drones are increasingly being used by Russia as part of a recent effort to ramp up airstrikes in Ukraine. The Ukrainian Armed Forces Air Force Command on Friday shared a video on Facebook stating that one of the drones exploded in mid-air in the Dnipropetrovsk region, about 60 miles northeast of the Zaporizhzhya nuclear power plant.
The Ukrainian Ministry of Defense also shared the video on Twitter, saying in the tweet that a total of six Russian kamikaze drones had been destroyed by Ukraine on Friday. Iran was also accused of supporting "Nazism" by supplying the drones.
"In 1943, Tehran became a place of hope for a new life without Nazism," the defense ministry said in the tweet along with the video, which shows the drone turning into a fireball in flight.
"In 2022, fundamentalist Tehran became a place supporting Russian Nazism and the murder of peaceful civilians," the tweet continued. "Today #UAarmy destroyed 6 Russian kamikaze drones supplied by Iran."
The destroyed drone was one of two Shahed-136 drones shot down in the Dnipropetrovsk region on Friday, according to Ukraine.
Mykola Lukashuk, head of Dnipropetrovsk's regional council, said in a Telegram message that one of the destroyed drones had injured six people after debris fell into a private yard, causing a fire, while also damaging several buildings and cars.
"In the evening, air defense units shot down two Shahed-136 kamikaze drones over the Dnipropetrovsk region," Lukashuk said, according to state news agency Ukrinform. "A drone fell into the yard of a household, where a fire broke out. Six people were injured, one person has been hospitalized."
The other drone shot down in Dnipropetrovsk reportedly landed on a local highway and caused damage to at least 100 square meters of road.
An additional Iranian-made kamikaze drone was destroyed Friday in a deadly Russian drone strike in Odessa, according to The Kiev Post.
"Odesa was attacked by kamikaze drones from the sea," Ukraine's government said in a statement After. "Two drones destroyed an administrative building in the port area and rescue services extinguished the flames. A civilian was killed. A 'Shahed-136' drone was shot down over the sea by air defense forces."
A second type of Russian-made Iranian-made drone, the multi-purpose Mohajer-6, was also reportedly destroyed for the first time on Friday, according to a Telegram report from the Ukrainian Air Force.
White House press secretary Karine Jean-Pierre said at a press conference on Aug. 30 that Iran had sent Russia a shipment of both Shahed-136 and Mohajer-6 drones "over the course of several days in August."
Ukraine on Thursday reported destroying at least five Russian drones, including at least four Shahed-136 drones. Ukraine earlier this month reported the destruction of a Shahed-136 drone near the frontlines of the war in the eastern region of Kharkov.
Ukrainian President Volodymyr Zelensky said on Friday that Iran would have serious consequences for entering into a "cooperation with evil" by supplying the drones to Russia.
"Today, the Russian military has used Iranian drones to attack the Dnipropetrovsk and Odessa region," Zelensky said in a televised speech. "I have instructed the State Department to issue a harsh response to this. The world will be aware of any fact of collaboration with evil, and it will have corresponding consequences.
"It has already been decided to de-accredit Iran's ambassador to Ukraine and significantly reduce the number of diplomatic staff at the Iranian embassy," he continued.
News week contacted the Islamic Republic of Iran's Interests Department at the Embassy of Pakistan in Washington, DC, and the Russian government for comment.