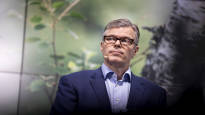 Iltalehtis (siirryt toiseen palveluun) editorial on Thursday calls for CEO of Fortum Markus Rauramo's resignation after what it characterized as "the biggest failure in Finnish corporate history".
ILs Kreeta Karvala writes that when the company announced on Wednesday that it would sell its entire stake in Uniper to the German state, the deal turned out to be the largest loss of business in Finland's history, at a cost of about six billion euros. Still, says Karvala, no one from Fortum seems to be taking responsibility.
Fortum's management, which spent $7 billion on its acquisition of Uniper in 2017, ignored several risk warnings that Russia could start cutting gas shipments to put pressure on Europe, the paper said.
At the time of the acquisition in 2017, Rauramo acted as CFO of Fortum.
On Wednesday, Rauramo blamed Fortum's losses to Uniper for the war in Ukraine. In the same breath, he expressed his regret for all the "trouble and inconvenience" Fortum has caused, the newspaper writes. Despite this, Rauramo does not appear to be stepping down of his own accord, so his fate rests with the Fortum board, now led by Veli-Matti Reinikkala. At the time of the Uniper acquisition, Reinikkala was already on the company's board.
Sole responsibility of Sari Baldaufwho chaired Fortum's board of directors during the Uniper acquisition, and Pekka Lundmarkthe company's CEO at the time, would also be welcome, IL writes.
In addition, Fortum's unfortunate Uniper adventure illustrates the failure of the state's corporate governance, the paper said. This failure left Fortum's management to its own devices and didn't engage the politicians until 'the shit had already reached the fan'.
Impact of staff shortages in healthcare
The personal accounts of nurses are in the national daily newspaper Helsingin Sanomat (siirryt toiseen palveluun) with regard to persistent staff shortages in the Finnish health care system.
Four nurses working in the Helsinki University Hospital District (HUS) were interviewed by the newspaper about incidents at work related to the prevailing situation.
Although the editors know the identity of the nurses, their story is told anonymously.
"I waited three hours on the ward with a critically ill patient to be operated on. The stitches from his previous major surgery had failed and he had internal bleeding in his abdomen. I was afraid that the patient was going to die, and he was afraid that he would die," a nurse who worked at HUS for six years told the newspaper.
Meanwhile, a midwife told HS that 12 midwives left in the summer and that recruiting replacements had proved difficult, adding that the staff shortage could pose a danger to mothers and babies. She told the paper that sometimes potentially serious incidents could only be avoided by sheer luck.
A HUS operating room nurse reported that operations were canceled daily. "Every weekday, between one and four operating rooms are closed due to a shortage of skilled nurses on our ward." She added that about 60 nurse positions remain unfilled in her ward.
Veli-Matti UlanderHUS' Chief Medical Officer, HS acknowledged that nurses are falling short. The daily incidents reported by the nurses are also not disputed by Ulander. According to him, the situation also differs per unit.
Flu season in Finland
RS virus, parainfluenza and flu are spreading rapidly in Finland and could cause major epidemics for the first time since the coronavirus pandemic, Iltasanomat (siirryt toiseen palveluun) let readers know on Thursday.
"What the coronavirus vaccines did was to make it pretty quiet for all viral infections. Now there's a bit of a fear that we haven't had these viruses for a few years, we're going to get them in droves." Veli-Jukka Antila, an infectious disease doctor, the newspaper told the paper.
Viruses, once contracted, provide protection against similar viruses for a few years, but not for life, IS reports.
"There is no evidence of this yet, but flu seasons may become a bit more difficult now that protective measures against the coronavirus have ended," Anttila said.
Due to seasonal variations in viruses, the worst flu season in Finland usually lasts from late November to early spring.
A person's immunity or resistance is based on white blood cells, healthy skin and mucous membranes, the paper writes, adding that especially in winter, skin and mucous membrane problems are often caused by dry air.
"It causes the mucous membranes in the nose to dry out and when you wake up in the morning your lips may be cracked. Dehydration makes you more susceptible to disease," Anttila told the paper.