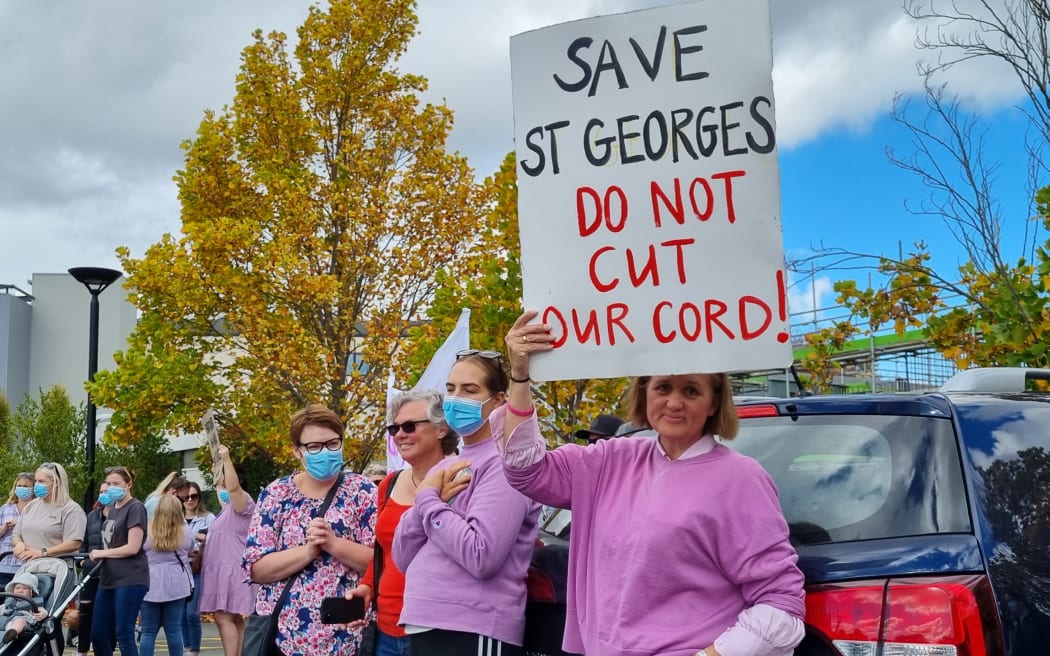 A popular Christchurch primary birthing unit will remain open for another year after considering a closure.
St George's Hospital Maternity is currently the only primary birthing unit in Christchurch, with the nearest alternative being half an hour's drive away.
A closure was considered due to staff shortages, but staff, midwives and young mothers rallied to keep the ward open in April.
A petition with 30,000 signatures opposing the potential closure was delivered to the hospital's chief executive, Blair Roxborough, and he extended the TAUT for a decision accordingly.
Today he announced the hospital will remain open for the remainder of his contract with the Canterbury District Health Board, ending in June next year.
"We continue to discuss the future of our maternity services contract – beyond June 2023 – with DHB Canterbury," he said.
A new DHB birthing unit opened yesterday in Selwyn, with a central unit in the town also due to open in early 2023.
But College of Midwives adviser Jacqui Anderson said these units should not replace existing services, but rather add to them as demand increases.
The potential closure was a reflection of the undervaluation of women's health, she said.
"It's really disheartening that we continue to fight, really, for recognition that the health and wellbeing of women and babies actually reflects the health and wellbeing of the community.
"It is incredibly disappointing that our midwife-led maternity service does not receive the appropriate resources and support, which affects our ability to provide the cutting-edge model of care we have in place."
Sheena Ross of Rata Midwives, who organized the 'Save St George's' petition, agreed.
"We should be making more primary birthing services available to women, not cutting them."
The uncertainty caused by the potential closure has been stressful for mothers and midwives, and this will continue with the unit's unknown future beyond June next year, she said. .
"It didn't explode, it still matters to all of us."
Phoebe Leyton was due to have her first child at St George's in September, and she was anxious to find out if it would happen there.
"It was quite concerning for us, but not [being] sure what our plan b would be.
"Today's news is fantastic, we are truly relieved at this important decision, not just for us but for all the women, people and whānau who were planning to give birth at St George's Maternity Hospital."
Roxborough said that while the service would remain open next year, staffing issues remained.
"I want to be very clear, unless this staffing shortage is addressed in order to maintain safe maternity services, we will have to further reduce deliveries at St George's," he said.
"There remains a nationwide shortage of midwives and we welcome feedback from our own maternity staff and the midwifery union MERAS on the staffing suggestions."
MERAS said it was working closely with St George's and the renewed certainty of continued operations would attract midwives to fill vacancies.
.