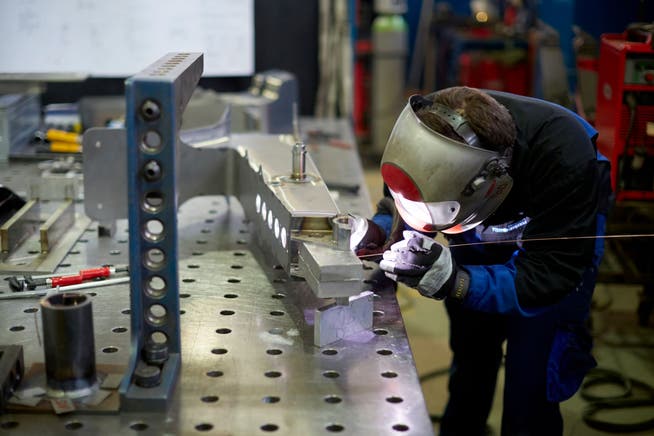 Beginning of the new year

Slower than expected: Swiss economy continues to recover
As expected, the Swiss economy continued to recover from the consequences of the pandemic in the first quarter of the year. However, the economy grew more slowly than expected. And after an outlier, foreign trade is now also stagnating.
As expected, the Swiss economy can continue to recover from the consequences of the corona pandemic. Although at a slower pace – due to the war that has broken out in Ukraine in the meantime. Specifically, the total value of all goods and services in Germany increased by 0.5 percentage points in the first three months of the year. Corrected for sporting events, the increase in gross domestic product (GDP) in the first quarter of the year was slightly less than 0.4 percentage points.
As the State Secretariat for Economic Affairs (Seco) announced on Tuesday, the industrial sector has notably contributed to this. Parts of the service sector, on the other hand, were again slowed down at the start of the quarter by the latest corona wave and the associated measures.
Exports increase – except to China
As the latest foreign trade figures released on the same day show, exports rose 2.5% in April after two volatile months. The main drivers were chemicals and pharmaceuticals (5.4%) and the machinery and electronics sector (4%). At the same time, exports of watches (-3.6%) and precision instruments (-7.4%) fell. In particular, exports to China and the Beijing-controlled Hong Kong Special Administrative Region have declined. The Federal Office for Customs and Border Security (BAZG) assessed the export situation in a statement on Tuesday as stagnating again.
According to the BAZG, imports fell by 7% in April to return to the level of last December. The biggest drop was in imports from the euro zone (-14.8%). In total, Switzerland exported more goods and services in April: the trade balance closed with a surplus of 3.8 billion francs.
Retail continues to lose sales
Meanwhile, in Switzerland, retailers continued to lose sales in April. As the Federal Statistical Office reported on Tuesday, retail sales for the fourth month of the year adjusted for the effects of sales and public holidays fell 5.1% from a year earlier. Excluding gas stations, the decline in nominal retail sales was even 6.5%.
Compared to the previous month, however, the minus in retail trade is down 1.2% overall and thus reflects the normalization of the industry following the pandemic. During the crisis, retail sales increased very strongly, both in-store and online.