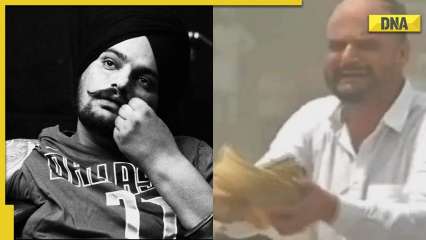 The funeral of famous Punjabi singer Sidhu Moose Wala was held in his hometown of Mansa, Punjab on Tuesday and thousands of people gathered to say goodbye to the singer. Sidhu fans are heartbroken over the singer's disappearance. But the loss suffered by the parents of the singer is immeasurable.
Singer 295's father, Balkaur Singh, was seen crying hysterically at his son's funeral, and he did something that would break your heart. An emotional Balkaur Singh took off his turban in the last rites and turned around, expressing the heavy loss. The video has gone viral and the visuals will make you cry every time you watch it.
Here is the video



Moose Wala's parents had brought his body home from the hospital on Tuesday morning for the late singer's cremation, scheduled for noon. The Punjabi singer's cremation was further delayed as crowds of mourners and fans gathered outside the door of his home. It has been reported that Sidhu Moose Wala will be cremated on the land of his agricultural field in Moosa village, which was his hometown. According to media reports, police charged fans who gathered outside the singer's residence to maintain law and order during his final rites.
Sidhu Moose Wala's body was sent for post-mortem examination a day after his death, where it was discovered that the Punjabi rapper had suffered 25 gunshot wounds. The singer was shot dead on Sunday and was pronounced dead when taken to hospital. On Monday, Punjab Police arrested six people from Chowki area of ​​Peliyon Police in Dehradun in connection with the killing of Moose Wala, STF sources said. The six people were arrested for allegedly supporting the assailants who murdered the singer.
Shubhdeep Singh Sidhu, known as Sidhu Moosewala, was shot dead by unidentified assailants in Punjab's Mansa district on Sunday, a day after the state government reduced its security coverage. His cousin and a friend, who were traveling with him in a Mahindra Thar jeep, were also injured in the attack.
.