Murang'a Governor Mwangi Wa Iria on Tuesday May 31 scared TAUT Elections and Boundaries Commission (IEBC) headquarters at Anniversary Towers after being stuck in an elevator for more than 30 minutes.
Wa Iria had been accompanied by dozens of supporters in a relentless search for IEBC President Wafula Chebukati.
However, when he boarded an elevator to one of the floors housing Chebukati's office, the elevator malfunctioned, causing a standoff.
Murang'a Governor Mwangi Wa Iria at the IEBC Headquarters in the Anniversary Towers, Tuesday, May 31, 2022.
Mwangi Wa Iria
Some of the supporters who had accompanied presidential candidate Usawa Kwa Wote read wrongdoing in the development and even threatened to provoke violence at IEBC offices.
"They have declared war on us and we will deal with them," said one of the governor's supporters.
Part of the entourage also went to the central police station, which is opposite the anniversary towers, to report the alleged sabotage of the elevator.
After thirty minutes, a panicked Iria exited the elevator, sweating profusely and having removed his tie. His security claimed guards turned off the air conditioner where the governor was stuck.
" My friend ! Have you ever been stuck in an elevator like this? He posed the questions to reporters who sought to find out how he felt.
The presidential aspirant announced that he would report Chebukati as a missing person to the Directorate of Criminal Investigations (DCI).
"I camped at Bomas until 11 p.m. on Sunday, but he managed to dodge me. On Monday, May 30, I returned to Bomas and then came back here, but I still haven't met him. Where is it ?"
"I was looking for my returning officer and I will now file a complaint with the DCI for him to be missing. He only appears in the media at night to mention me and then disappears," said the presidential candidate.
Wa Iria claimed that Chebukati deliberately frustrated his efforts to see him claim foul play. He accused the IEBC president of prematurely disqualifying him while showing compassion to other presidential candidates who submitted their papers.
"He doesn't want to meet any of his candidates but he's met everything, is there something wrong between him and me? He called Kalonzo from London to come and complete the paperwork, the same with Wajackoya, but he prevented me from meeting him," complained the two-term governor.
The county chief of Murang'a has ripped holes in the signature verification process by the IEBC in Kenya's Bomas, saying that the commission did not have a register to compare the documents submitted and therefore did not have the right to disqualify candidates.
Iria sensationally claimed that some of the ID copies and signatures he submitted were stolen by rogue IEBC officials and attributed to his competitors who failed to gather the required number of documents .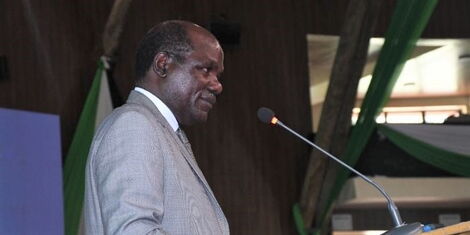 IEBC President Wafula Chebukati addresses the 2022 presidential aspirants during a pre-candidates registration meeting for the
Bomas from Kenya on Monday, May 23, 2022
IEBC
violence Fly