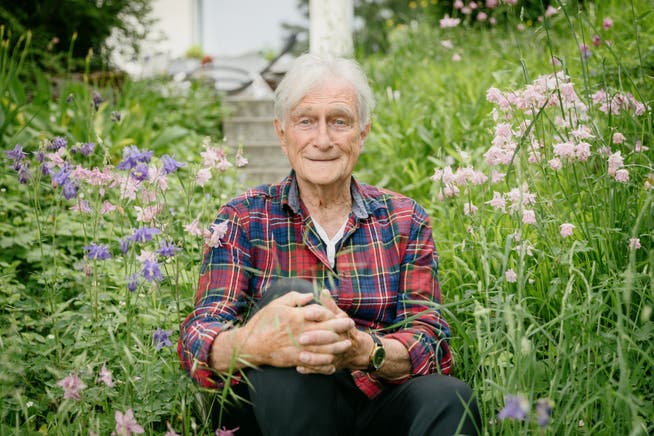 Former National Council

Saving Hundreds of Millions in Healthcare with Hypnotherapy?
Roland Wiederkehr shaped the WWF, taught Raser to be afraid, and founded the Green Cross with Mikhail Gorbachev. Today, at almost 80 years old, the former member of the National Council is pursuing a new political objective: he wants to anchor hypnotherapy in the field of health in the long term.
A spiral staircase leads to Roland Wiederkehr's therapy room. The room is simply furnished, a comfortable armchair, that's all. Almost everything: stuffed monkeys and elephants are neatly lined up on a frame. Children who have overcome their fear of night monsters and other fears can choose such a comforter. We then find on the locker half-full packs of cigarettes, which are left there by smokers who have broken their addiction to nicotine thanks to hypnotherapy.
In hypnosis, people enter a trance state in which, through their expanded imagination, they find a different way to access their inner world. Hypnosis, says Wiederkehr, is above all a complete relaxation, a complete letting go. This is the prerequisite for finding the negative emotions in the subconscious that burden the life of its clients. "Once these feelings are discovered, the brain can be 'reprogrammed' with positive ideas." Sometimes a single session is enough to solve the problems, but usually no more than two or three are needed.
For the environment, against speeders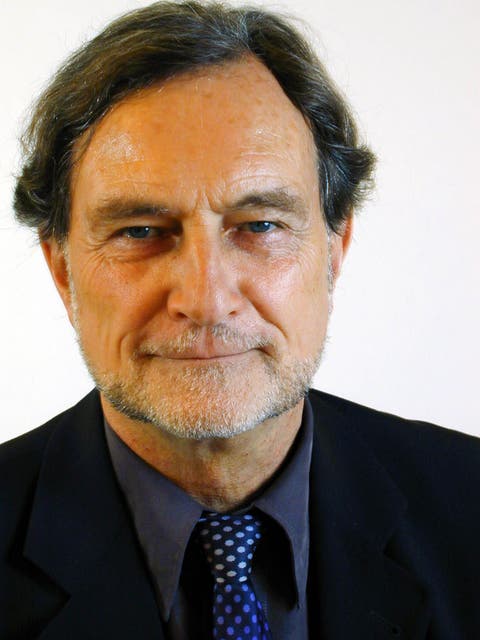 Roland back? Correct: He is the man who once politicized the state circle of independents in the National Council. He was the man who was appointed managing director of WWF Switzerland in 1968 at the age of 25 and transformed the sole proprietorship into a powerful environmental organization with more than 100 employees. He is the man who founded the Green Cross Foundation with Mikhail Gorbachev, the last Soviet head of state, to alleviate the consequences of man-made disasters such as Chernobyl.
He is the man who co-founded in 1989 "the Association of Families of Road Victims" (later Cross of the Road) and fought against speeding on Swiss asphalt. The slogan "gentle judges are accomplices" has caused a lot of excitement in judicial circles. Ten years ago Parliament tightened speeding laws, so Road Cross withdrew a grassroots initiative.
Far from the picture turns
Wiederkehr is now a board member of the Swiss Professional Association for Hypnotherapy (SBVH), the largest of its kind in the country with more than 700 therapists. At 79, while others are enjoying their retirement in private, Wiederkehr is once again doing pioneering work: he wants to bring hypnotherapy into the mainstream, freeing it from the reputation of sleight of hand that hypnosis still has in part because it doesn't appeal to many people in television entertainment know, in which hypnotists appear who degrade people into seemingly mindless objects and order them at will.
Wiederkehr is convinced: Thanks to hypnotherapy, hundreds of millions of Swiss francs can be saved in the well-equipped Swiss healthcare system. Numerous international studies have proven the success of hypnotherapy. They meet the "WZW" criteria (effective, appropriate, economical), a prerequisite for inclusion in the basic insurance of the health insurance fund. For political reasons, Wiederkehr currently considers such a big step unrealistic.
And so the first intermediate objective of the SBVH is to put hypnotherapy on the list of the so-called Tariff 590. It lists more than 100 methods of complementary medicine such as sound, light or painting therapy, some of which are reimbursed by mutuals via complementary insurance. Only a few health insurers, however, accept hypnotherapy services today. The SBVH is in discussions with the industry to change this. The association aims to offer a three-year training to become a federally qualified hypnotherapist from the fall.
Tennis, electric bike, skiing and organ
CH Media welcomes them again on the terrace of their family home in Aesch. Surrounded by flowers, bushes and a cherry tree, the grandfather (he has a grandchild) with gray but full hair recounts how he swings the tennis racket twice a week despite two artificial hip joints, runs through 20 kilometers a day on an e-bike, and skis in the winter, plays the organ in the reformed church in Birmensdorf – and how he became passionate about hypnosis 7 years ago.
It happened like this: Wiederkehr met an attractive young woman who almost despaired because: notorious bad luck with men, repeated setbacks at work. Until she was treated twice by a hypnotherapist. "It completely changed his life," says Wiederkehr. She quickly found a great partner and now works as an executive secretary for a large IT company.
Return was fascinated and wanted to know: how and why does hypnosis work? He first trained in Omni-Hypnosis and continued his training over the years. He reserves three hours for patients three afternoons a week – the association's political commitment does not allow more.
The comeback lifts smokers out of nicotine addiction and people out of depression, frees students from exam anxiety, helps in weight loss and reduces pain. After a journey of suffering through medical practices, the return often embodies the last hope for patients. He said, "I'm not a healer. I'm just highlighting how clients can help and heal themselves."
Painless surgery – without anesthesia
The way – it's the customer's imagination. This was documented, for example, by the SRF four years ago in the "Puls" program. Viewers were stunned to see how Christian Schiermayer from the canton of Zug, accompanied by an Omni-trained hypnotherapist, had a metal plate operation on his hand without anesthesia. During the operation, Schiermayer's thoughts were on his favorite spot on Lake Zug. The procedure at the Hirslanden Klinik St.Anna was painless. Even after the operation, Schiermayer never needed painkillers.
In the meantime, the SBVH is currently collecting examples intended to show how healthcare costs can be sustainably reduced with hypnotherapy – through the avoidance of long-term therapies and less medication. Wiederkehr mentions a case from his practice. A young woman was bullied at work and suffered from burnout. Two doctors offered a six-week stay in a clinic in the Engadine. Costs: CHF 45,000, paid with money from health insurance and taxpayers.
138 times cheaper than a hospital stay
The woman alternatively consulted Recurrence, which solved the problem by revealing hypnosis. The negative situations that led her to exhaustion revealed themselves in the subconscious. The return treatment costs only 325 francs, which is 138 times less than the proposed hospital stay.
Another example: A woman raped by her father suffered from "Crohn's disease". It is a chronic disease that can cause inflammation throughout the intestinal tract. Stomach pain and constant diarrhea are characteristic. The woman completed a medical gauntlet that cost several 100,000 francs. After a few hypnosis sessions with a colleague from Wiederkehr, the symptoms were under control. "The woman says that through hypnotherapy she was able to 'wash' all the dirt from the rapes and the shame from her body and soul," says Wiederkehr.
A study by the Lausanne hospital shows potential for savings
In the meantime, hospitals are increasingly using hypnosis, an ancient method of therapy, for example to combat fear and pain. In a 2010 study, the University Hospital of Lausanne showed that through clinical hypnosis, more than CHF 17,000 per person can be saved for severely burned people – because hypnosis allows better pain control, to stimulate the healing process and to use medication to reduce.
The University Hospitals of Geneva have trained nearly 2,000 employees in hypnosis and hypnotic communication in recent years. Renowned immunologist and Professor Claire-Anne Siegrist is in charge of the program. She cites the main advantages: "Hypnosis allows you to quickly establish a therapeutic link between caregivers and patients, thanks to which fears and pain are reduced.
Contrary to hypnotherapists, physicians with the appropriate additional training can invoice benefits under the basic insurance. The Swiss Medical Society distinguishes itself from "any form of profane hypnosis" and writes on its website: "Hypnosis should only be practiced by well-trained doctors, dentists and psychologists to ensure that the patient does not undergo any harm." Wiederkehr does not accept this: "A doctor is above all a doctor, he rarely uses hypnotherapy. In this field, we are the professionals. We work with it on a daily basis and guarantee the quality criteria in the association."
Proposal for a direct station in Zurich submitted
A pattern is characteristic of the return to ministry. He always brings up topics that are not yet a topic of conversation. Typically, it has taken decades until now for his concerns to be accepted. For example, in 1997 he submitted the very first metro station project in Zurich to the National Council. "The Federal Council accepted, the SBB refused and opted for a squadron station at the Sihlpost", recalls Wiederkehr. The intercity link was put into service in 2014 and is now "the pride of SBB".
With hypnotherapy, Wiederkehr hopes for shorter periods. The elderly retiree would be only too happy to experience the moment when hypnotherapy would at least be recognized by supplementary insurance.