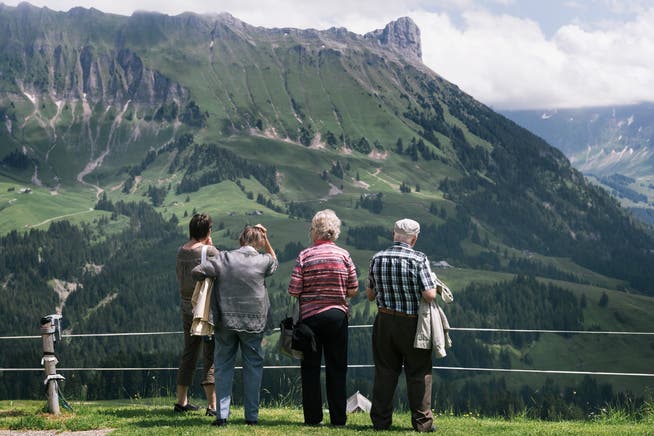 prevention

Long live retirement: two-thirds of retirees can afford at least as much as before
The vast majority lead financially independent lives after retirement, while a fifth struggle to make ends meet. This is shown by a new study by Swiss Life.
The requirement is clear: the Swiss pension system with its three pillars must guarantee existence and the previous standard of living. And obviously, the task of the majority of retirees is pretty well done. This is at least the result of a new study by the insurance company Swiss Life. Thus, two-thirds of 65-75 year olds say they can "afford at least as much as before retirement". Even 80% felt "financially self-determined," as evidenced by the Link Institute's representative survey of 1,310 people.
Despite the positive basic tenor: the Swiss Life study also shows that a third party must limit themselves – and then do so. The retirees concerned then spend less money on trips (75%), restaurant visits (66%) and shopping for clothes (62%). A total of 19% of pensioners surveyed even live in a household which, according to their own assessment, "financially manages to make ends meet with little or no difficulty".
If retirees had 500 francs more to spend per month, they would most often spend this additional budget on travel (50%). 29% would save more, 26% would give more and 19% would eat out more often.
Less income, less social contributions
With retirement, the AVS pension becomes the main source of income in most households, notes Swiss Life. Only then do 2nd pillar pensions follow and their benefits gain in importance. In 2012, only 66% of retirees up to the age of 70 received money from occupational pensions; in 2019, they were already 76%.
When you retire, your gross income will decline – by about a third, according to Swiss Life. However, the drop in income will be partly offset by a lower savings rate and a drop in social and tax contributions. Retirees would spend about ten percent less on other budget items than the 50-61 age group. But what changes significantly with retirement is the structure of expenditure: retirees have significantly higher health expenditure, but spend less on restaurant visits or mobility.
Only a fifth of retirees deplete their assets
Half of retired taxpayers have – in addition to pension funds – assets of around 300,000 francs, which in turn is often "linked to real estate", as Swiss Life puts it. This wealth usually remains – and is sometimes even increased. "Only around a fifth of people over 65 live in households that are depleting their wealth," says Andreas Christen, author of the Swiss Life study. "Just under half spend as much money as they come in, and about a third continue to save money."
Basically, the Swiss Life study paints a pleasing picture, but the insurance group speaks of a "positive snapshot". The next wave of baby boomer retirements, longer life expectancies and uncertainty in capital markets would create problems for the pension system. "Reforms are urgently needed," said Markus Leibundgut, head of Swiss Life Switzerland. Moreover, the retirees interviewed also wanted it. But neither can they agree on a consensus – just like politicians.