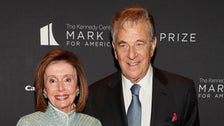 Pelosi, 82, was driving through an intersection near the town of Yountville, in Napa County, Calif., when his 2021 Porsche was struck by a 2014 Jeep, the California Highway Patrol said in a statement early Monday morning.
The financier was arrested just before midnight and held on $5,000 bail, according to a public booking report on the Napa County government website. He was released just before 7:30 a.m. Sunday morning, according to booking records.
No injuries were reported. The other driver was not arrested.
Pelosi could face misdemeanor charges including driving under the influence and driving with a blood alcohol level of 0.08 or higher, according to the booking report.
"The President will not comment on this private matter that occurred while she was on the East Coast," his deputy chief of staff Drew Hammill said in a statement to The AU Times on Sunday.
Nancy Pelosi was in Rhode Island on Sunday to deliver a commencement address at Brown University. The couple have been married since 1963.
.