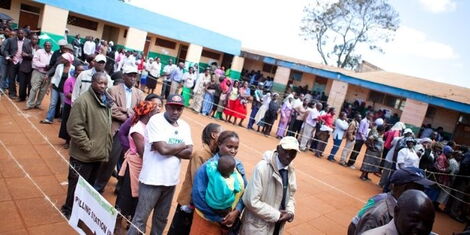 The National Cohesion and Integration Commission (NCIC) has listed six counties, including Nairobi and Mombasa, as the most prone to election-related violence.
According to a report published on Tuesday, May 31, the counties have been marked as high-risk areas, with the chances of experiencing election-related violence very high.
Nairobi County was ranked first with a prevalence rate of 79.85%. Other counties include Nakuru, Kericho, Kisumu, Uasin Gishu and Mombasa.
An image of TAUT queuing to vote in a past election.
Case
"Of Kenya's 47 counties, six are likely to experience electoral violence in the upcoming general elections," the NCIC said.
NCIC Commissioner Danvas Makori explained that Nairobi was the first county likely to experience chaos due to the hive of political activity taking place in different parts of the city.
"Nairobi County, with a KEVI-C score of 79.85%, is most at risk of electoral violence in August 2022. Nairobi is considered the epicenter of political protest in Kenya," Makori explained. .
He was followed by Nakuru at 75.77%, Kericho at 74.81% and Kisumu at 74.26%.
Uasin Gishu and Mombasa ranked fifth and sixth with 72.25% and 71.15% respectively.
The report further listed 10 counties, including Narok, Marsabit, Laikipia, Lamu, Baringo, Isiolo, Meru, Nandi, Samburu and Bomet, as medium-high risk areas likely to face election-related violence.
The NCIC report aims to help stakeholders prepare to deal with cases that arise before or after the election.
The report is also used by law enforcement officers to prepare for deployments and plan other election-related activities.
It comes two months after the NCIC banned 23 words deemed to be hate speech or incitement to violence.
Words prohibited from use in English included fumigation, eliminate, and kill.
Prohibited words in Swahili include Kaffir (derived from the Arabic term Kafir meaning disbeliever or one who hides the truth), madoadoa (dots), chunga kura (ensure vote), mende (cockroach), watu wa kurusha mawe (people who throw stones), watajua hawajui (they will know that they do not know), wabara waende kwao (sea people must go home), wakuja (those who come), Chinja Kafir (kill the infidel) and kwekwe (weeds ).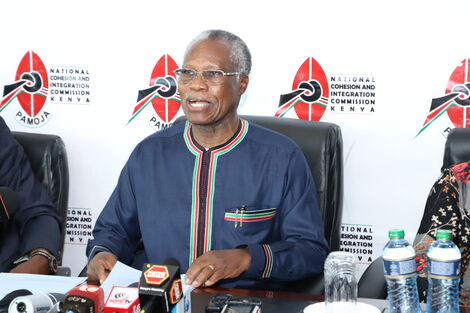 National Cohesion and Integration Commission (NCIC) boss Reverend Dr Samuel Kobia speaking at a press conference on April 8, 2022.
Case
violence