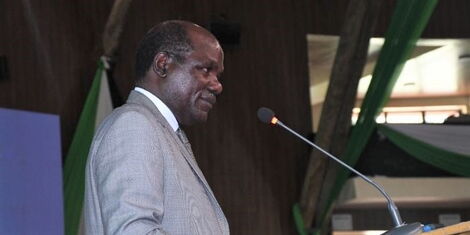 TAUT Electoral and Boundaries Commission (IEBC) has excluded renowned gospel artist Reuben Kigame from the August 9 presidential race, citing failure to meet set requirements.
Speaking to the media on Monday, May 30, Kigame revealed that the decision of the electorate had been conveyed to him by the President of the Commission, Wafula Chebukati, who told him that there were anomalies in the signatures collected to support his candidacy.
An attempt to sit down with Chebukati yesterday proved futile even as he revealed he would be taking legal action against the Commission.
IEBC President Wafula Chebukati addresses the 2022 presidential aspirants during a pre-candidates registration meeting for the
Bomas from Kenya on Monday, May 23, 2022
IEBC
He said the electorate had shown favoritism to some candidates by saying they were ready to resubmit their documents which had anomalies.
"Here is evidence of signatures and ID copies which the IEBC refused to take and then charged me with non-compliance. They won't even look at my diplomas and other qualifications. Justice flow like hell water and the cry of non-discrimination fill the air."
"When I wanted to seek audience with the President and obtain redress in this case, the security barred me from entering the Bomas of Kenya saying that no aspirants were allowed. I was prejudged on the basis signatures, which they haven't received and are still lying in my car," he said.
His case was similar to that of the governor of Murang'a, Mwangi wa Iria, of the Usawa Kwa Wote party, who was excluded from the race for issues related to the signatures collected.
Chebukati refuted claims that the Commission was influenced to ban some of the aspirants by stating that those involved did not meet some of the requirements set by the IEBC.
"According to our records, Governor Iria presented 24 bundles, but there were only signatures from 22 counties. After further verification, only documents from five counties passed the test," he said.
On the other hand, Roots Party presidential hopeful George Wajackoyah was given until June 2 to resubmit signatures from 7 counties that did not meet IEBC standards.
"I must reject your application today and give you the opportunity on June 2 at 3 p.m. to comply. You have complied with all documents except the list of supporters. Only 17 counties are compliant. The others have complied. You need a minimum of seven to meet the requirements," Chebukati told Wajackoyah.
By law, presidential candidates must submit at least 2,000 signatures from 24 voter counties supporting their candidacy to the State House.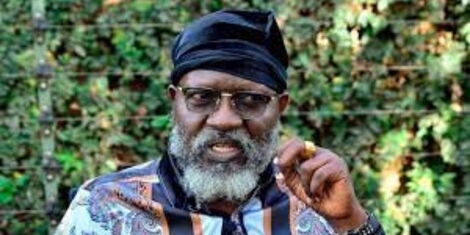 Presidential aspirant Professor George Wajackoyah speaks to Nation reporters at his offices in Karen on February 17, 2022
Daily Nation