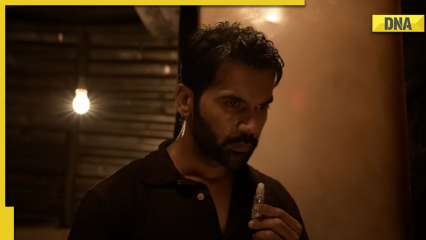 HIT: The First Case, the highly anticipated suspense thriller starring Rajkummar Rao alongside Sanya Malhotra is out now! The teaser for the movie had received huge love from fans. They were very excited to unveil the mystery behind Vikram's life. Finally, their wait comes to an end when they catch a glimpse of Vikram and his life in this gripping trailer for HIT: The First Case.
The story revolves around the competent detective of HIT's Homicide Response Team, Vikram (Rajkummar Rao), and his mission to solve the case of the missing women. Vikram also suffers from PTSD, and while serving his duty, he even struggles with the ghost of a dark past. The trailer sets the tone for the film filled with suspense, thrill and action. Vikram, played by Rajkummar Rao, is a cop battling demons from his past in the midst of solving a criminal case of a missing woman. The film unveils many mysteries, deceptions, lies, truths and much more. The 2 minute 33 second trailer keeps you on the edge of the seat, and it promises to be an unexpected ride with unpredictable twists. Rajkummar shines in the trailer as Vikram, and he excels as an investigator with a dark past. Sanya Malhotra, as usual, promises to be a "one to watch" talent, and she will continue to dazzle her fans with some impressive acting skills.
Watch the trailer

HIT – The First Case is an official Hindi remake of the Telugu mystery action thriller of the same name. The original Telugu film featured actors Vishwak Sen and Ruhani Sharma in the lead roles. The film is the gripping story of a cop who is on the trail of a missing girl.
Gulshan Kumar and T-Series present in association with Dil Raju Productions HIT: The First Case. Directed by Dr. Sailesh Kolanu, the film is produced by Bhushan Kumar, Dil Raju, Krishan Kumar and Kuldeep Rathore. The film starring Rajkummar Rao and Sanya Malhotra will hit theaters on July 15, 2022.
.