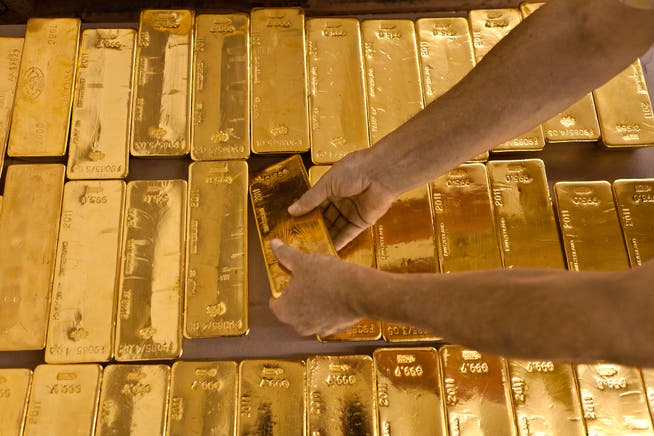 raw materials

Refineries bought three tons of Putin's gold: customs now check questionable imports
In May, Russian gold reached Switzerland for the first time since the start of the war in Ukraine. We don't know who is behind it. The federal government is investigating.
The case made headlines around the world: in May, Switzerland imported three tonnes of Russian gold worth 194.2 million francs. Although sanctions don't ban it, Putin's Russia gold has been internationally banned since the Russian attack on Ukraine. If it is gold that was produced after March 7 and can be further processed by refineries, for example, any further trade in Switzerland is punishable by law. There is a risk of imprisonment and fines of up to 100,000 francs.
It is not known who the buyers of the three tons of Russian gold are. Tariff numbers indicate a refinery. The Federal Office for Customs and Border Security does not provide any information on this for data protection reasons. It is clear that the gold arrived in Switzerland via Great Britain. "The Federal Office of Customs and Border Security is reviewing the affected imports against applicable sanctions," a statement said Friday.
Export is prohibited
According to the Ordinance on Measures Related to the Situation in Ukraine, the import of gold from Russia into Switzerland is not prohibited, underlines the Federal Government. Bullion that was produced by Russian refineries before March 7, 2022 should in principle continue to be marketed. "In contrast, the export of gold to Russia is prohibited in accordance with the applicable sanctions regulations.
In addition, any prohibited Russian gold trade in Switzerland is considered a violation of the Precious Metals Control Act and is therefore a punishable offence. According to customs, there are virtually no trade restrictions for gold in other forms such as jewelry or gold coins.
Dubai gold hub
Besides questionable imports from Russia, there is another channel that commodity experts are currently watching closely: the Dubai Mall. It is considered a hub for gold from dubious sources. The suspicion: Russian gold continues to arrive in Switzerland via the United Arab Emirates.
Statistics confirm these assumptions. In March, the Emirates delivered 36 tonnes of gold worth more than 2 billion Swiss francs to Switzerland, more than it has done in six years. "The federal government and the refineries have a duty to do everything to ensure that Switzerland does not become an escape route for Russian gold from Dubai," Swissaid commodity expert Marc Ummel told CH Media at the time.
A look at the latest figures shows that 20 tonnes of gold from the Emirates arrived in Switzerland in April. In May, then only 1.1 tons.
Regarding the suspicion that Russian gold was being delivered to Switzerland via Dubai, the federal government said at the time that this was only speculation and that there was no proof to be found. support. The Federal Government controls raw materials and thus also raw gold in cross-border traffic on a risk basis. "And the Precious Metals Central Control Office periodically monitors refiners' compliance with due diligence."