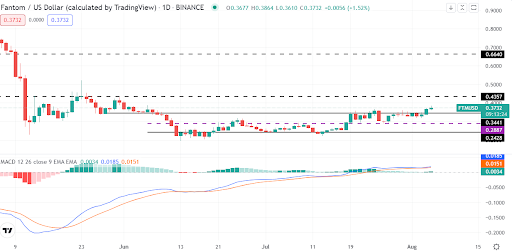 Fantom blockchain is a Layer-1 project with smart contract functionalities

The native token FTM broke past the key resistance at $0.34

FTM could rise then hit $0.43 as bullish momentum develops
The recent recoveries from Fantom FTM/USD underscore the confidence in scalable Layer-1 solutions. Leading blockchains such as Bitcoin and Ethereum have been criticized for expensive and slow transactions. Layer-1 alternatives were popular last year for their scalability and low gas rates. Fantom has been widely touted as a Layer-1 smart contract platform ready to compete for top positions.
Ranked at position 53 by market cap, Fantom is already hitting its knees. That was after a decline following cracks in its own ecosystem, followed by a bear market. Fantom, however, renews itself. The profit in the past week is around 9%. Gains are likely to accelerate in the coming week as Fantom broke past the key resistance at $0.34. The token is currently trading at USD 0.37 in bullish momentum and is likely to reach USD 0.43 thereafter.
FTM pushes above resistance-turned support
Source – TradingView
Technically, FTM has set $0.34 as the reference support. That was after the token shot past the level that acted as a resistance. The MACD line has crossed above the moving average, confirming the bullish momentum.
FTM will continue to rise, with the next resistance now set at $0.43. If the level breaks, the next resistance to watch is $0.66. That will depend on the prevailing crypto sentiment.
closing thoughts
While FTM remains a shadow of its 2021 highs, it is recovering. It is seeing higher levels after breaking above $0.34. We believe that investors can buy the token in the long term. For short-term traders, $0.43 is the next level to take profits.