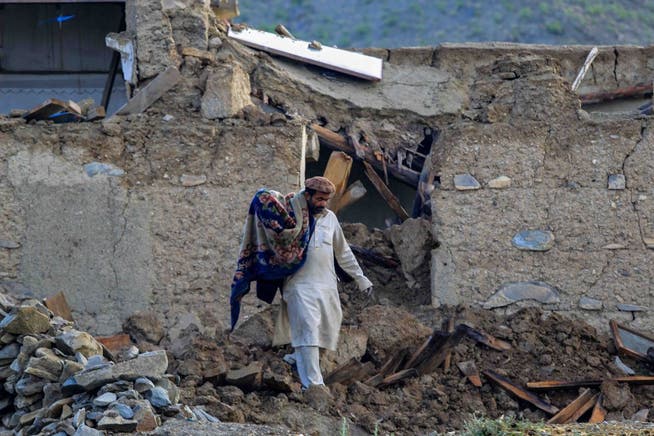 disaster

After an earthquake that killed 1,000 people in Afghanistan: relief efforts continue
A tremor shook people along the Afghanistan-Pakistan border early Wednesday morning. Hundreds of residents are killed. The mountainous terrain makes rescue operations difficult.
Rescue operations continue after the devastating earthquake in the Afghan-Pakistan border region. At least 1,000 people were killed and 1,500 injured, according to the official Bakhtar news agency on Wednesday. Meanwhile, helpers were digging mass graves in the areas affected by the accident. The massive tremor had taken many residents by surprise early Wednesday morning.
Several humanitarian organizations have meanwhile pledged their support to the country. "The number of casualties is expected to increase as search and rescue operations continue," the United Nations Emergency Relief Office (OCHA) said. UN Secretary General António Guterres expressed his condolences to the victims.
"The earthquake in Afghanistan has shaken a country where around 20 million people no longer know how to feed themselves," said Welthungerhilfe's country director in Kabul, Thomas ten Boer. "The local authorities have already signaled that outside help would be welcome. This shows that the disaster, the extent of which is still not exactly known, can hardly be handled by ourselves," says ten Boer.
Taliban leaders expressed their sympathy and condolences to the victims. According to OCHA, up to 1,800 houses have been destroyed in the affected provinces. Afghan media reported that a village had been completely destroyed. The construction in the poor and economically weak area is not earthquake proof due to cost reasons, many families live close to each other.
Rescue work was made more difficult by access to the remote mountainous region. Taliban Islamist militants, who have ruled Afghanistan again since August 2021, called an emergency cabinet meeting. Several helicopters were sent to the disaster area to help local populations. A government spokesman called on aid organizations for support. Some humanitarian organizations arrived on the spot on Wednesday.
The United States Earthquake Monitoring Station (USGS) reported a magnitude of 5.9 for the quake and a slightly weaker aftershock. Thus, the center of the earthquake was about 50 kilometers southwest of the city of Khost near the border with Pakistan at a depth of about ten kilometers. Pakistani authorities recorded the earthquake with a magnitude of 6.1. (dpa)