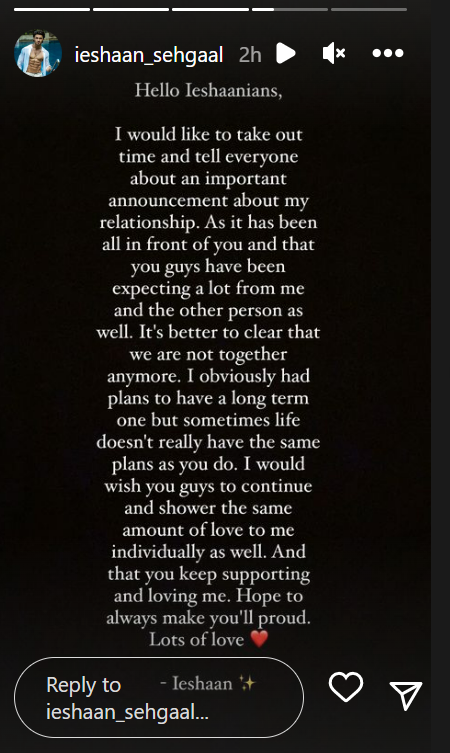 Bigg Boss 15 contestants Ieshaan Sehgaal and Miesha Iyer, who confessed their love for each other in the controversial house, have decided to split up within a year of their dating. Both recently unfollowed each other on social media.
On Friday, the actor announced his split on social media, writing: "Hi Ieshanians, I'd like to take the time to tell everyone about an important announcement about my relationship. Because it's all been right in front of you and you love me a lot. and the other person it's better to make it clear that we're not together anymore I clearly had long term plans but sometimes life doesn't really have the same plans as you I wish you guys carry on and me also give the same amount of love individually. And that you continue to support and love me. I hope to always make you proud. Much love – Ieshan."
Ieshaan spoke about his breakup during an interview with the The AU Times. He confirmed and said, 'Yes, it's true, we broke up. It's been a while." He added: "It didn't go well. I guess we weren't meant to be (together). It wasn't something that would have turned out fair."
Ieshaan said: "She wanted other things out of life and so did I. The circumstances of the show were very different. I was very invested in the relationship. When we came out and went into the real world, it was very different from what we saw." in the house. I think it's good that we broke up."
He also said that he is not "one who holds a grudge. I have no contact with her. If you're asking if I agree with her or if I want to talk to her, no." Speaking about the breakup, he said: "It's not normal to deal with a breakup, especially when you've invested so much in a relationship. It always gets difficult. (But) I have fully moved on. I am in a happy and positive space."
.