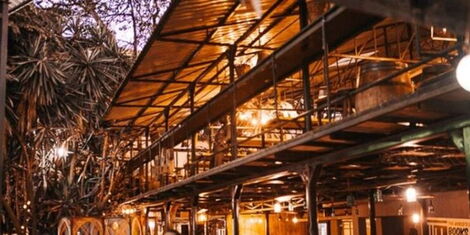 The Alchemist bar has announced a temporary closure to allow the Nairobi County Government to carry out investigations into allegations of racism.
In a statement dated Monday, May 30, the entertainment establishment will close its doors indefinitely to review the incident and assess the policies put in place to ensure all visitors are treated equally and with due diligence. dignity.
Alchemist noted that it will work with the Nairobi County Government to get to the bottom of the issue that has sparked outrage online.
"The closure will review The Alchemist, in general, to determine if there ever was a policy of discrimination. Interviews and footage will be reviewed of past events both at the gate and inside the establishment.
An image showing a section of the Alchemist Club in Parklands, Nairobi.
the alchemist
"The shutdown will also allow for the review of third-party security services based on interviews and footage to determine what actions and recommendations should take place," The Alchemist said.
The facility said the findings of the investigations will inform the next course of action to avoid a repeat of similar instances of racism.
"Based on the results of this investigation, Nairobi County Government will advise on next steps and procedures."
The Alchemist took the action after being accused of racism following a music video that went viral over the weekend apparently perpetuating racism against black people.
The video reportedly depicted black people queuing in different lines from white and Indian revelers.
The entertainment joint has moved away from promoting racism.
"The line is made up of people from all different walks of life. We've never had a policy of separating the lines," the establishment explained.
"There was a group of customers who had left and returned to the room. Security allowed them to enter through the exit line so as not to obstruct the main entrance. The video that was shared by an individual made it look like another customer had been refused entry – that's just not true."