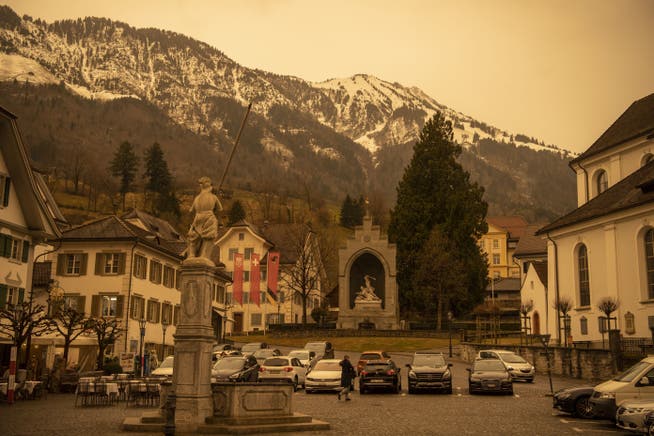 air pollution

Air quality is improving – but ozone levels remain too high
The limit values ​​for ozone were exceeded throughout Switzerland last year. On the southern side of the Alps, this also applies to fine dust – also because of the Sahara dust.
Air quality in Switzerland has improved significantly over the past 30 years. "Most of the limit values ​​for the protection of health and the environment are complied with today," summarizes Martin Schiess from the Federal Office for the Environment (FOEN) in the report on air quality in 2021 published on Thursday. Nevertheless, the legally anchored goal of clean air is not yet reached.
The measurement results of the national monitoring network for air pollutants (Nabel) show that the limit values ​​for ozone were exceeded at all 16 Nabel stations last year – sometimes significantly. The highest loads were in Ticino.
Sahara dust hits the lungs
According to the Bafu, the limit values ​​for fine dust were also partially exceeded on the south side of the Alps. Overall, the daily mean limit value for PM10 fine dust moved in the red area at eight Navel locations. Frequent Saharan dust events would have contributed to this.
The other limit values ​​of the Clean Air Ordinance for other pollutants, on the other hand, were complied with at all locations, as it is also said. The measured values ​​of sulfur dioxide, carbon monoxide and heavy metals were "significantly" below the immission limit values.
Fireworks on New Year's Eve increase fine dust pollution
In the report, the Bafu also shows how short-term local emissions or meteorological situations can strongly influence the measurements. At the turn of the year 2021/2022, for example, there were sharply increased particulate matter values, especially in the Zurich region. The reason: Apparently, a particularly large number of rockets, volcanoes and other fireworks were set off in this area.
As a result, the fine dust concentration rose to over 50 micrograms per cubic meter of air at some measuring stations – a value that may not be exceeded on more than three days a year. On New Year's Eve 2020/2021, on the other hand, no values ​​above 50 micrograms were registered. According to the Bafu, the "fireworks days" in Switzerland affect the annual average fine dust pollution by 1 to 2 percent based on the limit value of 20 micrograms per cubic meter of air. (abi)